SEN resources needn't be costly or technically difficult. Our SEN range is suitable for all ages and abilities and designed to get everyone actively engaged, first making and controlling sounds and then making music together.
The kits and instruments are affordable, inclusive and accessible and because they come with clearly written teaching support and access to our experts, any practitioner or parent can start making a difference right away: enabling, empowering and having fun together.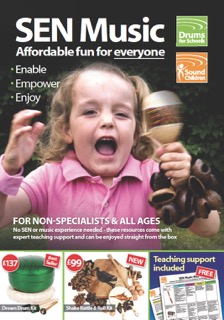 Learning by playing
Drums for Schools Director Andy Gwatkin, explained: "Our 'learning by playing' approach is thoroughly inclusive and accessible to everyone – children, adults and practitioners. Our instruments stimulate both the senses and the imagination and generate an immediate response.
"And they can be played straight from the box – you don't need SEN or music training because everything is so accessible and comes with teaching support and access to our experts. These really are musical instruments for everyone."
Teaching support materials
Each music kit includes clear and accessible teaching support materials: an introduction to SEN Music & Sound Play, a set of SEN music posters and relevant instrument cards. Instruments bought separately are supplied with the relevant instrument cards and all customers have access to our experts and online support.
At Drums for Schools/Sound Children our focus is on making music accessible and we only make instruments that can give immediate musical satisfaction and which anyone and everyone can play. We are committed to being the UK's Best Value Specialist supplier of inclusive, easy-to-play instruments.
See our full SEN range of instruments
To see our full SEN range of inclusive instruments, packs and accessories, click here
or if you require further advice email sales@drumsforschools.co.uk