The Unicorn Theatre offers subsidies to groups, ensuring accessibility where needed, and embraces values such as curiosity, respect, and courage in their work.
They forge partnerships with schools in their local boroughs and community groups across London, guaranteeing that young people can easily access their shows.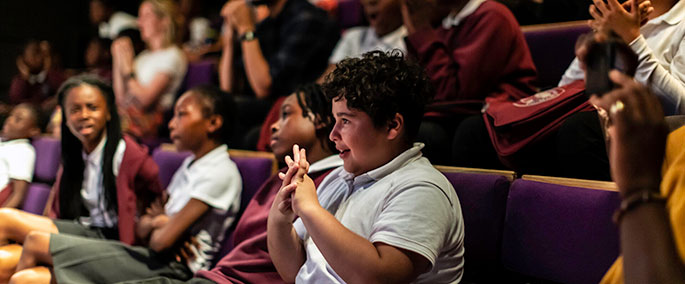 Accessibility at its heart
The renowned children's theatre always puts accessibility at the heart of all its projects with Relaxed, Audio Described, Captioned and BSL performances.
The upcoming season for 2023/2024 marks a significant milestone for the Unicorn Theatre as it joyously celebrates its 75th year since its founding by the visionary Caryl Jenner back in 1949.
This season promises to be a captivating journey for theatre enthusiasts, spanning from November through to Easter 2024, with a diverse array of productions and experiences to enchant audiences of all ages.
Start of the Unicorn Theatre season
Kicking off the season is a heart-warming return of Julian Clary's cherished adaptation of his best-selling novel, The Bolds, running from 11 November to 31 December, just in time to add some laughter to your Christmas festivities.
This delightful play will be accompanied by the uproarious The Wolf, the Duck, and the Mouse (17 November to 31 December), a witty adaptation of Mac Barnett's cult picture book, beautifully illustrated by Jon Klassen.
Into 2024
January ushers in more theatrical delights with Ready, Steady, Lift Off! (17 January to 18 February), an interactive production by A Line Art designed for the young and curious, aged 3 to 8.
Prepare to embark on an exciting space exploration journey, where you can even roll up your sleeves and build your very own rocket! At the same time, the beloved Three Billy Goats Gruff, in collaboration with Chichester Festival Theatre, returns to the stage (20 January to 18 February) to whisk you away on a magical adventure on the other side of the fence.
Spellbinding Easter
As the calendar progresses towards Easter, anticipation grows for I Wish, directed by Unicorn's Artistic Director Rachel Bagshaw and featuring Le Gateau Chocolat (22 March to 21 April).
This brand-new show, featuring enchanting songs and a mischievous wish-giver, is a creation in collaboration with composer Seiriol Davies, promising a spellbinding experience for ages 3 to 7.
And finally, the season culminates in a captivating musical adventure, The Odyssey (24 March to 21 April), a radical retelling by Nina Segal and directed by the talented Jennifer Tang.
75th-anniversary celebration
The Unicorn Theatre's 75th-year celebration promises to be a season filled with laughter, wonder, and unforgettable experiences for families, children, and theatre enthusiasts alike. It's a testament to the theatre's enduring commitment to storytelling and artistic innovation, ensuring that the magic of live performance continues to captivate hearts for generations to come.
Contact us
Box Office: 020 7645 0560
Email: boxoffice@unicorntheatre.com
147 Tooley St, London, SE1 2HZ