Campbell Farm, South Dairy, Wiston, Haverfordwest, Pembrokeshire SA62 4BD
Tel: 01437 751261
Email: info@skyboundtherapies.co.uk
www.skyboundtherapies.co.uk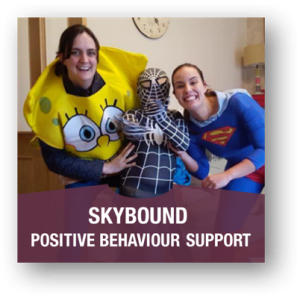 Skybound Therapies provides intervention programmes which can include any combination of Applied Behaviour Analysis
, Verbal Behaviour
, Speech and Language Therapy, Occupational Therapy and Positive Behaviour Support.
These programmes are tailored to individuals' needs and can be delivered through a variety of service delivery options. We work with individuals of all ages.
Intensive Programme
Skybound Therapies offers five-day intensive programmes at our purpose-built therapy centre. One family at a time attends these Programmes with the individual with autism.
During these five days, the individual with autism will be assessed by the multi-disciplinary team incorporating a Board Certified Behaviour Analyst, Occupational Therapist and Speech and Language Therapist.
Consultancy Services
We can provide consultancy across the UK and abroad to: Families
, Schools
, Respite Centres
 or Residential Services.
Training Courses
Skybound provide tailored training courses for parents, teachers, support staff, and care staff on a range of topics, including:  Introduction to effective teaching
, Functional communication training, Managing behaviours that challenge, Increasing life and leisure skills.
Behaviour Assessments
For individuals with behaviours that challenge we offer Functional Behaviour Assessments followed by written behaviour support plans and practical training – focused on proactive interventions to teach functionally equivalent replacement behaviours.