Address: Radmoor Road, Loughborough, Leicestershire LE11 3BS
Telephone: 015 0961 1077
Email:  enquiries@rnibcollege.ac.uk
Website: www.rnibcollege.ac.uk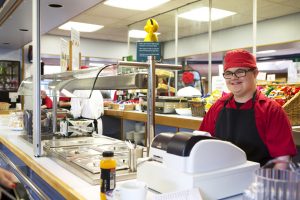 We are a friendly residential college supporting young people and adults with a wide range of disabilities to achieve their goals.
Choose us for your Further Education and you'll learn practical skills and gain work experience within our enterprises — our Café, eBay business, Conference Centre, Arts Centre, Shop and Office. You could also choose a course at our partner mainstream college located next door.
If you are a young adult wanting to gain the skills and confidence to progress into independent or supported living, you may want to apply for our Bridge programme.  It's a one-year residential programme which will help you to build your independence. You'll be encouraged and supported to do things you've previously had help for, making you ready to move into your own home.
Also on offer is Flexible Futures, our daytime activities programme. You could spend time in each of our different enterprises, providing a vital role in these real businesses and being part of college life. You could also go out and enjoy the local community.
We offer a range of other services too, including training for people and organisations that support people with sight loss. If there is something you need help with, or know someone who could benefit from our support, please give us a call.
Support
Needs we support:
Vision impairment
Learning difficulties and disabilities
Autistic spectrum disorders (ASD)
Physical disabilities
Communication difficulties
Mild hearing problems
Additional healthcare needs, such as epilepsy
Additional emotional and behavioural difficulties.
Contact RNIB College Loughborough
Get in touch with us today to arrange a visit – just click here