Concerns are growing that officials are failing to make clear that disabled people do not have to cover their faces on public transport.
The UK Government introduced new rules on Monday (15 June 2020). These insist that everyone in England must wear face coverings when on public transport.
The Scottish Government has now also decided to make face coverings mandatory on public transport. This will affect public transport in Scotland from next Monday (22 June).
They have introduced the rules to slow the spread of coronavirus.
But disabled people are exempt.
Possible hostility
Campaigners are concerned that disabled people could face hostility from other passengers for failing to wear a mask.
They say government and council publicity in England concentrates on the headline message of "anyone travelling in England must wear a face covering".
The new rules do not apply in Wales or Northern Ireland. However, their governments recommend that people cover their faces in places where social distancing is difficult. This includes on public transport.
Public could challenge autistic people
The National Autistic Society (NAS) said it is "concerned" that autistic people "could be challenged" if they travel in England without a face mask. The same concern could now apply to travel in Scotland.
The NAS has called on the Government to make sure that the public know about exemptions to the travel rules.
Much of the publicity about the face coverings fails to mention any exemption.
Steve Broach is a barrister specialising in disability with 39 Essex Chambers.
On Twitter he wrote: "I get the need for clear messaging, but the problem is that disabled people need everyone to know about the exemptions to avoid being harassed for not covering their faces."
Broach urged mayor of London Sadiq Khan to clarify the rules to avoid "making our city even more inaccessible".
Downloadable information sheet
The NAS has created a downloadable information sheet for families and carers. The sheet summarises the exemptions.
Anyone could use it if someone challenges them on public transport.
Autism Eye contacted the Department of Health and Social Care and the Local Government Association. However, they did not respond.
Click here to see the NAS information sheet and autism exemption card download links.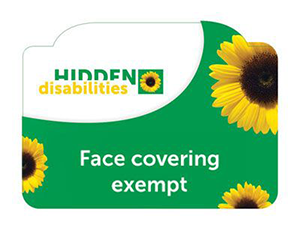 Alternatively, a Face Covering Exempt card (pictured right) can be worn with a lanyard. It is available here: https://hiddendisabilitiesstore.com/hidden-disabilities-face-covering.html
Autism Alert cards are also widely available, such as ones provided by local police forces. Click here for a contact list.
Related:
Published: 17 June 2020. Updated 19 June 2020.