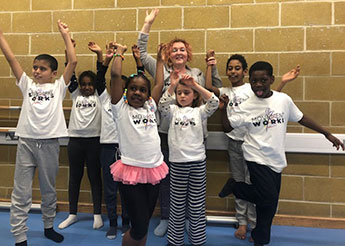 MovementWorks:
Action for Autism taster
Project: Action For Autism
Target Audience: Individuals ages 7 – 16 years (with or without diagnosis)
Spaces/Capacity: 50 places
Delivery: Mainly Online (via secure Zoom sessions)
---
Overview & Aim of Project
MovementWorks is an organisation that provides high-quality movement and dance education and promotes 'Action For Learning, Health and Well-Being'. MovementWorks has received recognition by The Royal Society of Arts; their project work acknowledged as having "real world impact" and were finalists  in the London Sport Awards 2020 for 'Children & Young People' and the One Dance UK awards for 'Inspirational Work In Education'.
'Action for Autism' is a project supported by The London Mayor with up to 50 funded places available for children age 7 -16 (with or without a formal diagnosis of autism or related differences). Priority will be given to those living in the Greater London area and to those who have not had previous opportunities to work with MovementWorks. The project is particulary interested to hear from those who have been negatively affected by the pandemic either through lack of movement opportunities and/or emotionally.
The project will be a blended delivery model of Autism Movement Therapy® (mainly online with some face to face opportunities if/when restrictions allow). Autism Movement Therapy is an evidence based method and will be delivered by qualified professionals. In weekly Autism Movement Therapy® sessions students will practice techniques that support them through a structured movement and music method.
About Autism Movement Therapy Method® Waking  Up The Brain!
AMT is a unique method that supports individuals with autism using music and independent movement to strengthen the body and brain connection. By incorporating movement and music in collaboration with Positive Behaviour Support (PBS) strategies AMT® has individuals meeting and achieving their speech and language, social and academic goals.
In addition there will be extra mental health and wellbeing sessions laid on throughout the run of the project including opportunities for private one to one support.
---
Key Dates
Webinars
To introduce the project and provide an overview, requirements and how it will work
Wednesday 21st April 2021 @ 2.00 pm
Link to book:
https://us02web.zoom.us/meeting/register/tZEtdeGvqD8uG92I9-EvU5QlPzxAAL0rKlln
Wednesday 28th April 2021 @ 7.00 pm
Link to book:
https://us02web.zoom.us/meeting/register/tZcocuGsqz4jG9R9vHM2v2ivpjecNqudPGwo
Taster Sessions
For anyone interested to get a feel for the session/teacher and for us to get some feedback as to what day/time will be the most popular to run.
Saturday 24th April 2021 @ 11.00 am
Link to book:
https://us02web.zoom.us/meeting/register/tZUudeGopjIuGtLQbUGcLDuDNlmo5dsKT7D3
Monday 26th April 2021 @ 4.30 pm
Link to book:
https://us02web.zoom.us/meeting/register/tZModu-orzsoEt2-yIKOHZ1bvT7TA9QDgpAu
Sunday 2nd May 2021 @ 11.00 am
Link to book:
https://us02web.zoom.us/meeting/register/tZEsd-2hrDkrGN1qn6i9_meGva22ymsl9iLc
Tuesday 4th May 2021 @ 4.30 pm
Link to book:
https://us02web.zoom.us/meeting/register/tZMkdO-trj4jEtBnoBbLAYEuwbSyV9la42cV
Online Surgeries from 21st April – 2nd May 2021
For parents/carers/teachers who might want to discuss concerns, suitability or need other additional support – approx. 30 minutes per session
Times and dates will be arranged as required
Registration / Enrolling – Week beginning 3rd May 2021
Start of Project Delivery – Week beginning 10th May 2021
Autism Movement Therapy® Sessions
Once weekly sessions (term-time) running to week ending 25th July (10 sessions)
4 Group Wellbeing Sessions
Half Term Week – Week beginning 31st May 2021
AMTea / coffee morning online: a social event for the participants, their parents/carers/teachers and potential new participants
Exact day / time to be confirmed (dependent on the availability of the majority of the participants)
Summer Holidays – Week beginning 26th July 2021
For project participants only (online and face to face)
---
Connect with MovementWorks