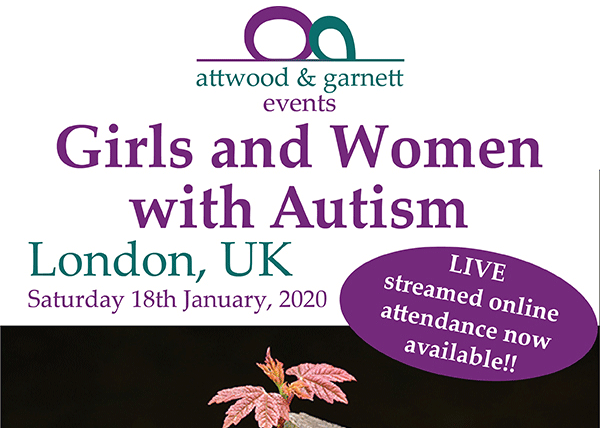 Attwood & Garnett: Girls and Women with Autism
January 18, 2020 @ 9:30 am

-

4:00 pm
London UK 18 January 2020
£150.00 – £198.00
All transactions are processed in Australian Dollars (AUD).
EARLY BIRD PRICE TIL 27th December, 2019
Saturday 18th January, 2020 – 9.30am – 4.00pm
In Person Venue:
Macmillan Hall, Senate House University of London, Malet St, London WC1E 7HU, United Kingdom
Live Interactive Webcast from Anywhere in the World
http://www.skillsdevelopment.co.uk/Girls&Women-with-Autism.shtml
About the event
This presentation will describe and celebrate the unique presentation of girls and women with autism (levels 1 and 2). It will increase awareness and knowledge of the female presentation of autism and share strategies we find useful in clinical practice, at home and school. We will address key challenges, including self-understanding, adolescence, relationships and expressing and managing emotions.
The presentation is for autistic teenage girls and women, parents, partners, and family members; psychologists, psychiatrists, GPs, paediatricians, specialist teacher ASC, speech pathologists, occupational therapists, social workers and counsellors.
To book for the Three Day Event Special – Girls and Women with Autism and 2 Day Master Class: Children and Adolescents with Autism Thursday 16th, Friday 17th & Saturday 18th January, 2020, please click HERE and select 3 DAY option from ADD TO CART section.
If you are unable to pay online, please download the registration form here and email to us.
IF YOU CAN'T COME TO LONDON
We partnered for this event with SDS Seminars Ltd – a UK leading provider of Live Interactive Webcasts in psychology and psychotherapy field. With SDS Live Interactive Webcasts you are able to attend our events in real time from the comfort of your own home or office and watch them afterwards as a full recording. You see, hear and experience the seminar in real time online through your laptop, tablet phone or PC Screen. You see and hear the presenter, their therapy demonstrations and any PowerPoint slides being projected to the audience. You can submit questions to the tutor and they will be regularly reviewed and answered by the presenter. You can also engage in a discussion about the course with other people participating in the webcast, and take part in group surveys conducted during the course. Learn more about SDS Webcasts.