Gable House, 239 Regents Park Road, Finchley, London N3 3NS
Tel: 020 8349 7700
Email: team@dsslaw.co.uk
www.SpecialEducationalNeeds.co.uk
Douglas Silas Solicitors are the legal experts specialising exclusively in SEN, helping parents successfully throughout the EHCP process – their  website: www.SpecialEducationalNeeds.co.uk is used by both parents and professionals.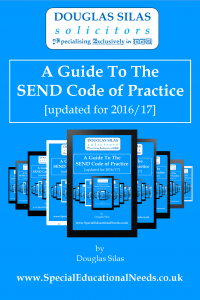 Douglas is also the author of A Guide To The SEND Code of Practice, which is available to download free for all eBook readers, including the Kindle, iPad/iPhone, Nook, Kobo, Android devices, etc.
For more details about the guide click here.
Also available to download on: