The Autism Show, the national event for autism (including Asperger syndrome), will be returning in June and July with a brand new speaker and feature programme.
The show runs in London, Birmingham and Manchester, attracting over 10,000 parents, carers, professionals and individuals with autism.
Working closely with partners The National Autistic Society, Research Autism and Mike Ayres Design, The Autism Show offers an unsurpassed level of specialist advice, information, products and services.
Autism Matters Theatre
At the event you can hear the UK's leading autism professionals discussing the latest news and research. This will take place in The Autism Matters Theatre, in partnership with Research Autism. This year's speakers include Prof Francesca Happe, Professor of Cognitive Neuroscience at Institute of Psychiatry, Kings College London; Lesley Cox, National Lead for SEND at OFSTED; and Jonathan Green, Professor of Child and Adolescent Psychiatry in the University of Manchester.
Other headline speakers, offering a different perspective on autism, include entrepreneur and philanthropist Dame Stephanie Shirley; the writer Kathy Lette, who will be returning to the show this year with her son, actor Julian Lette; and Rt Hon John Bercow MP, Speaker of the House of Commons.
Also don't miss Cheryl Gillan MP, Chair of the All Party Parliamentary Group on Autism, who will be talking about parliamentary initiatives on autism.
Hub Theatre 1
In The Hub Theatre 1, visitors can listen to the personal experiences of adults on the spectrum and their families. In so doing, they can gain unique insights into the past, present and future.
Topics covered include transitions in education, finding meaningful employment, sex and relationships. There will also be talks about how autism presents in girls, autism into old age and navigating the welfare system.
Hub Theatre 2
Meanwhile, The Hub Theatre 2 provides a huge variety of practical tips and strategies. These will help visitors to help care, support and teach autistic children and adults. Hear professionals cover a wide range of subjects. These will include choosing the right interventions, diet, autism in the mainstream classroom, and transition into adult services.
One to One Clinics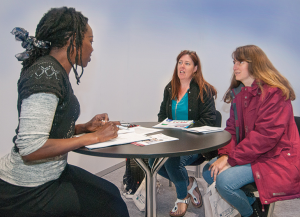 At The Autism Show, parents and carers wishing to speak to specialist professionals can book a One to One Clinic. These will cover subjects such as managing challenging behaviour, legal advice on SEN, welfare rights, employment, speech and language, and occupational therapy.
Autism Uncut Cinema
We're excited by several new interactive features this year. One of these is the Autism Uncut Cinema, which will show shortlisted films from The National Autistic Society's Autism Uncut Film and Media Awards. To counter how autism is often misrepresented and stereotyped in mainstream media, these original four-minute films shed light on the real world of autism – uncensored and uncut. They can help more people understand the condition, the person and what they can do to help.
LEGO Therapy Zone
LEGO® Therapy has become increasingly popular over recent years. It has been shown to benefit autistic children and adults by improving language development, social interaction and fine motor skills. This year we have created a LEGO® Therapy Zone where you can learn more about the theory behind the therapy. Then you can take part in a live session.
Sensory Room
In the ever-popular Sensory Room, created by Mike Ayres and OM Interactive, visitors can discover the latest in innovative sensory design and technology.
Hundreds of products and services
Among all this content, visitors can access hundreds of products and services that can make an immediate and positive difference to someone on the autism spectrum. Visitors can explore the exhibition to find the UK's leading suppliers of learning tools, visual aids, sensory equipment, furniture, advice and support services, residential care, specialist schools and much more.
Book for The Autism Show
Book your tickets now and save 20% at www.autismshow.co.uk.
ExCeL London, 16 – 17 June 2017
NEC Birmingham, 23 – 24 June 2017
EventCity Manchester, 30 June – 1 July 2017