Living Autism is now offering the Autism Champions courses to all organisations across a broader geographical base.
Living Autism has been successfully delivering Autism Champions courses in York since 2015.
It is suitable for employers, local businesses and shops, public services, tourist attractions, hospitality venues and other community organisations.
Autism Champions is an in-depth, two-day course covering aspects of how autism can affect individuals across the spectrum and how businesses might become more easily accessible to autistic people.
Autism Champions will be able to cascade the information to their colleagues as appropriate for them. We will provide an electronic training pack once delegates have completed the course.
The aim of this course is to provide attendees with underpinning knowledge and understanding of Autistic Spectrum Disorders/Conditions. It is intended to help attendees to be able to cascade the knowledge gained to their colleagues.
Organisations which have already benefitted from the course include: City of York Council, Cummins Engineering, Leeds University, Tees Esk Wear & Valley Mental Health Trust, Tesco, Wilf Ward Family Trust, Yorkshire Museums Trust and Yorkshire Archeological Trust.
Day One of the course covers
Characteristics of autism (the bulk of the session)
Behaviours and impact
What works
The day also touches upon –
Legislative requirements
Etymology and prevalence
Possible causes and diagnosis
History and co-morbidity
Day Two of the course provides attendees the opportunity to consider how to cascade the information and looks at:
Audience
Environment
Learning styles
How to personalise the information through stories and exercises
Course facilitation
We will deliver the course in a combination of theory, practical and interactive sessions.
Cost
The fee is £295 per delegate for the two days. Refreshments and lunch are included.
Autism Champions course dates are:
11th and 18th September 2018
Spaces are limited to 12 attendees per course.
Please book by visiting the booking website or by emailing training@livingautism.co.uk
Manar Matusiak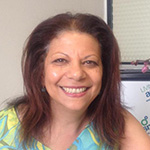 Manar Matusiak is Managing Director of Living Autism. She has 20 years' experience at director level in the specialist care and education sector, in particular in the field of autism. She helped to set up and develop the first transitional residential service in the country for young adults with autism and complex needs.
Her background is in teaching and management. During her career, she was Personal and Professional Development Director for one of the national specialist autism providers, overseeing the development (including delivering direct training) of over 1,000 staff, managers and directors in children's and adults' provisions. She continues to train families and professionals across the country.
Ronnie Pinder
"I am married with five daughters and live and work in York. Like an increasing number of people, I was diagnosed with Autism Spectrum Disorder in adulthood, after over 40 years of struggling yet not realising that others didn't experience the world in the way that I do.
Diagnosis changed my life and gave me the confidence to speak in public about my experiences of being autistic.
Since diagnosis I have been giving talks and taking part in training and workshops with both doctors and other clinicians and also to the general public. I offer a unique perspective, giving first-hand experiences."
How to get to the conference
The Living Autism conference will take place at the The Priory Street Centre in York.
The Priory Street Centre is within easy walking distance from York railway and bus station. There is a small car park at the venue that delegates can pay for through the RingGo app. There is also car parking at Nunnery Lane car park -YO23 1AA for £12 for the day for those who need parking facilities.
Address
15 Priory Street
York
YO1 6ET