As published in the New York Times, OmegaBrite has been clinically shown to reduce both the overall perception of stress and the inflammatory molecules associated with stress in normal populations with no specific disease diagnosis.¹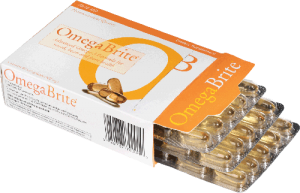 Stress has long been shown to affect caregivers of autistic children and the children themselves. OmegaBrite provides a revolutionary new way to promote health.
OmegaBrite has been beloved by the autistic community for over 20 years. Give you and your child the amazing benefits of OmegaBrite today!
OmegaBrite's High EPA Omega-3 Nutrients Support:
Positive mood
Cardiac Health
Joint Comfort
Brain Health
Eye Health
Healthy levels of triglycerides
Overall health and well-being
Omega-3  –  Omega-6 balance
Why OmegaBrite:
90% Pure Omega-3
70% Pure EPA (eicosapentanoic acid), nature's anti-inflammatory molecule™
Every batch third-party tested to ensure purity
Protected from oxidation with Nitrogen Blanketing
From small wild fish from the cold pristine waters of Peru and Chile
No drug-like side effects
Tiny, easy-to-swallow 500 mg gelcaps; 60 per box
No aftertaste
"We have tried different fish oils with our autistic son and this is the only one that truly affects him and doesn't belch the taste of fish or upset his stomach. Love this product!!"
– Sherri W.
*In two placebo controlled, double-blind studies
*This statement has not been evaluated by the Food and Drug Administration. This product is not intended to diagnose, treat, cure, or prevent any disease.
¹ Janice K. Kiecolt-Glaser, Martha A Belury, Rebecca Andridge, William B. Malarkey, Ronald Glaser. Omega-3 supplementation lowers inflammation and anxiety in medical students: A randomized controlled trial. Brain, Behavior, and Immunity, 2011; DOI: 10.1016/j.bbi.2011.07.229