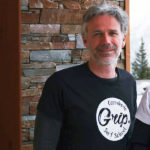 By Ian Callan, founder of Go Beyond Holidays, www.gobeyondholidays.com
---
Our Go Beyond 2022 summer in Spain happened quite by accident. 
During the planning for our supported holidays in 2021, it became apparent that our summer programme's first choice of Dartmoor wasn't going to happen.  Our 2022 brochure was going to print and I needed to find a replacement quickly. Finding a surf house in the far northwest of Spain, near Finisterre, that was available for five weeks and could sleep up to 20 at fairly late notice was a miracle.
Fast forward nearly a year and the Go Beyond team are safely installed in Corrubedo, a thriving fishing village with surprisingly few tourists about an hour's drive from Galicia's capital, Santiago de Compostela. Our accommodation, the Grip Surf School House, is an eight-bedroomed, three-storey Galicia beach house with views over the Atlantic and yellow sandy beaches, broken up by the odd protrusion of rocky outcrops.
A special walk in golden light
Santiago de Compostela, with its golden light and harsh ink-black shadows, as you may know, is famous for a certain pilgrimage, Camino de Santiago, that ends there, at its beautiful cathedral in the grand old quarters of Santiago.
I had recently read a book about the world-renowned pilgrimage, called The Pilgrimage, by Paulo Coelho. It's a true story of the author, who undertakes the thousand-kilometre pilgrimage from the foothills of the Pyrenees on the French side, over the mountains, and along the north coast of Spain.
Knowledgeable local guide
When planning the itinerary for the Spanish holidays, I desperately wanted to include, somehow, the Camino as an activity for our guests, as we were so close to Santiago that it seemed crazy not to include it. I made contact with Elvio from Galicia Travels, a small tour company based in Santiago, that specialises in tours of Galicia and accompanying tourists on their trek into Santiago. We agreed that we could do the last five kilometres of the walk, finishing at the cathedral, and that Elvio would walk with us.
I was happy that I had managed to secure this as a holiday activity for our guests and team; I thought it was good because it had three, perhaps four, elements to it. The actual physical walk itself, the narration of the history of the Camino during the walk from Elvio, seeing the city of Santiago from a pilgrim's perspective and, finally, a possibly spiritual aspect that we may pick up while retracing pilgrims' steps from many different ages in history.
Keeping cooler
In the days leading up to our first five-kilometre walk, the weather forecast for our walk was hot (36°C in Santiago), not an ideal temperature to be walking into a city.
I contacted Elvio to find out his thoughts. He said, firstly, shorten the walk from five to three kilometres and, secondly, start the walk at 5pm to avoid the main heat of the day and to make the walk more comfortable.
We picnicked in the Victorian-style park, which is emblazoned with statues of important local historical figures, in the heart of Santiago on the day of our first walk.  We were a team of seven staff supporting ten guests with varying support needs, mostly able to walk very well. One guest needed an arm while walking, but pre-warned us that she could only walk one kilometre before she would need a wheelchair to finish the rest.
Setting off
We arrived at our rendezvous point at 4.45pm, just outside the city. We arranged to meet next to a ten-metre tall, rectangular archway statue of famous people associated with the Camino, as well as symbols sculpted and spread all over it.
Elvio, wheelchair at hand, was waiting in the now-goldening light of the day, lighting him up like a beacon. He explained that the statue acted as a gateway into the city, to welcome pilgrims and remind them that their arduous challenge was nearly at an end. Although Elvio had brought a wheelchair for our guest, he said: "You never know, she may well walk the whole three kilometres."
Next to the statue, there was a water fountain, where we splashed each other and refilled our water bottles. We began our walk in the shade, alongside a busy road. We stopped at our first Camino marker, a short bollard-type structure made of granite. Carved on the front face of its four sides was the famous icon of the Camino, a golden yellow shell on a blue background. Here, Elvio began to tell us the history of the Camino, the type of people that were walking to Santiago, why they were doing it, how long it took and where they started.
Startled barman
About 20 minutes into the adventure, Elvio directed us into an ordinary-looking bar. As we all piled in, we were given a piece of A4 paper. "We are in the bar to collect our stamps. Every pilgrim has to get at least two stamps a day, which are proof of where you have been. Juan, the barman, will stamp your paper."
We gathered around the startled barman, papers held out; a chaotic scene, I am sure, if viewed from the outside. A guest looked at his paper after Juan stamped it, a blue ink logo of old-fashioned drinking jars with the name in a lazy scrawl, 'Bodeguilla de San Lazaro'. "What does it say?" asked a guest. "It reads San Lazaro," I replied. The guest replied: "I hope it hasn't got anything to do with Lazurus, I feel like a walking zombie," as he left the bar.
We all filed out into the street from the bar eventually, after pretty much everyone used the toilet. We managed to convince a guest that ordering a pizza from the bar right now was probably a bad idea, and that perhaps after the walk would be better.
Cobbled streets and shuttered windows
The modern buildings gradually became fewer and the city took on a more historical look. Cobbled streets were lined with stout granite buildings with shuttered windows. First-floor balconies with iron railings now jutted out and the streets were divided down the middle by golden, airy sunlight on one side and blacker-than-black shade on the other.
It was at about the halfway point that our guest, Hana, who expressed that she may not be able to walk three kilometres, began to look tired and was visibly struggling. We presented Hana with the wheelchair; she really did not want to give up and I could see that she was upset that she had had to stop. I came up with an idea: I could give her a piggyback and carry her over the finishing line. I proposed the thought and she literally jumped at the idea, right onto my back. Hana was a lot happier, sitting taller than everyone, plodding down the old streets of Santiago. Perhaps the wheelchair was a symbol to her, reminding her of her limitations. I reassured her that we would finish the walk all together, as a group.
Triumphant bagpipes as we ended the adventure
After half a kilometre or so, I started to notice how heavy my load had become. As we neared the cathedral, the two golden skyward spires, now visible, I began to realise that I would have to inform Hana that I could no longer carry her.  She was remarkably stoic about it, seeing that I was trying my best and she decided to walk a bit further. Taking a team member's arm, she started to walk.
Buoyed by Hana's strength, we enthusiastically entered the pedestrianised old town of Santiago. We passed many taverns and shops selling souvenirs. There were other pilgrims passing us, too, with salutations.  The trickling ones and twos of pilgrims grew denser, and soon, as we approached the famous archway at the entrance to the square, we became part of a large throng of people, marching happily.
There was also the triumphant song of bagpipes and as we now passed through the dark archway; a lone bagpiper piped a Celtic melody.  The musical notes seemed to decorate and hang on to the mixed atmosphere generated by the walkers.  I began to feel a real sense of sadness that the walk was going to end. Our own mini-trek was coming to its conclusion, and despite also feeling glad that we, as a large group with different support needs, were about to finish, was sad as well.  Imagine how it must feel for someone who has walked all the way from further afield. Had been perhaps walking for a month?
Cheering and congratulations
We passed the piper, out of the archway and into the golden, sunlit square in front of the cathedral, where crowds of people were sitting and watching the pilgrims finish their journeys. People cheered and congratulated us, smiles all around.  Hana, very pleased that she had finished the walk with the group, was elated too.
It's hard to explain how I felt in that square, having completed the last few steps of the Camino.  It was like a new dimension of myself had been born. Words have not been created to define exactly what I felt, so I will leave it up to you to imagine.
We will be walking the Camino again this summer on Go Beyond's supported holidays. See the details here.