Go Provence Supported Holidays has now become Go Beyond Holidays.  As many will know, since 2010 they have been known as the world-famous Go Provence Supported Holidays.  As they approached their 10-year anniversary they felt that their holidays were gradually becoming less and less in Provence, South of France, and more elsewhere.  Their new name, Go Beyond Holidays, is more suitable as it reflects the desire of the people they support to travel further afield.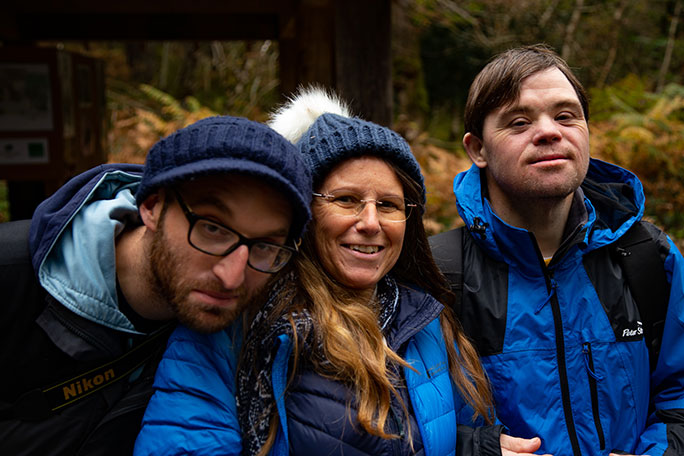 An exotic feel in more familiar territory
2020 was a very difficult year, due to the risk of Covid-19 infection.  Go Beyond recognise that is was a very hard year for all in the tourist industry and for those who wished to travel abroad for a holiday. After careful consideration, with a desire for all of their holidays to go ahead, they have decided to run their 2021 holiday programme entirely within the United Kingdom.
This means that there are fewer barriers, such as flights getting cancelled, destination country borders closing and, of course, the worry of getting stuck in a country for longer than expected.  The programme still has an exotic feel, despite being in more familiar territory.
Holidays for 2021
Wildlife in Norfolk Broads
This wonderful wildlife holiday is in the delightful setting of the Norfolk Broads, East Anglia's very own National Park, with over 125 miles of navigable lock-free waterways set in a beautiful big-sky, sparkling landscape studded with picturesque and charming towns and villages.
Hadrians Wall Trek 
Built to guard the north-west frontier of the Roman Empire and stretching 73 miles from coast to coast, this epic historical Hadrian's Wall Trek holiday provides guests with the unique opportunity to discover ancient remains of towns, turrets, towers and forts, fascinating wildlife and the unique rugged terrain of England's northern counties.
Great Dartmoor Adventure 
With an inspirational landscape of rugged 'tors' and heather-clad moors, and designated a National Park in 1951, Dartmoor is, without question, one of the last great wildernesses in the UK. An enormous tract of untamed, rich and diverse countryside stretching across 368 square miles. It is, quite simply, unique. Unlike any other landscape in the country with its stannary towns, rushing streams, secluded villages, Dartmoor ponies, mysterious hut circles, towering granite tors, standing stones and mighty ancient woodlands just inviting us to explore.
World Cuisine
If you like eating meals from all over the world and you enjoy cooking, this could be the perfect holiday for you.  Each day there is a different national theme: it could be Italy or China, Morocco or Mexico, and you will get to create a dish from that country.  You will source ingredients from local markets and then be supported and guided to prepare and cook each meal for dinner.  Everyone will then have the pleasure of enjoying the meal you have prepared.  A holiday of culinary delights at Adventure Lodge in Dartmoor.
Aqua Adventure
Keep yourself cool this summer with Aqua Adventure. Splash around on the rivers, lakes and in the sea while enjoying fun activities. These activities will include gorge scrambling, kayaking, canoeing, building a raft and more. You will be staying at the wonderful Adventure Lodge, located on the fringe of Dartmoor. It's a place where the primary aim is to 'bring Dartmoor to life' for each and every visitor and guest. Your accommodation will be comfortable and clean – perfect for a good night's rest. Just what you'll need after each epic and energetic day of your holiday.
Discover a Different Dartmoor
If you need some time to unwind and recharge your batteries, then you might like to give this holiday a try.  It's full of gentle activities and plenty of time to relax.  Activities include visiting the National Marine Aquarium, pony trekking on Dartmoor, going to Lydford Gorge and Castle Drogo, a trip on the South Devon Railway from Buckfastleigh to Totnes, and a day at the seaside in Dartmouth.  All based at our cosy Adventure Lodge on Dartmoor.
Trekking in the Cotswolds
Trekking in the Cotswolds is a mix of open meadow, track, woodland, river bank and country lane walking in a region of rural England that is world-renowned and perhaps without equal in its naturally undulating landscapes, its flora and fauna, big-sky vistas, historic heritage, pretty towns and villages. It's a mix of friendly folk, fine foods and wondrous wildlife.
Wildlife in Scotland
A fresh way to experience the fantastic and diverse wildlife of Scotland. Designed to be an informative and fun multi-activity trip across a wild and staggeringly beautiful area of Scotland, led by expert guides, this holiday will have you seeking out species such as dolphins, red deer and golden eagles as we explore Scotland's wild places. And while we will visit a hide or two, most of the wildlife will be encountered as we enjoy activities such as boat trips and walks. All activities will be conducted at an easy pace, so are suitable for everyone to enjoy.  All accommodation, meals and guides are included within the cost for this Wildlife in Scotland holiday.
Halloween Castle Trail in Scotland
This Halloween Castle Trail in Scotland has castles. Lots of castles! In fact, with a spectacularly spooky stay in three historic and atmospheric hotels, expect some ghostly Halloween connections, ancient ruins, delightful scenery, a chance to get some fresh Scottish air, lots of colour and character, great food (of course) and traditional Highland hospitality all the way. And for movie fans in our group, you will be excited to know that some of the castles appear in famous films such as Monty Python and The Da Vinci Code.
For more information on any of the above holidays, please see Go Beyond Holidays' new website, where you will find explanatory videos to help people who need support with literacy.
Or get in touch at ian@gobeyondholidays.com
See the slideshow of our holiday in Dartmoor
Back in October, Go Beyond Holidays under their previous name Go Provence, ran a wildlife holiday in Dartmoor.  Although under tight Covid-19 restrictions, they had an amazing holiday with a team of eight support staff and nine guests.  Please see the slideshow below to get a good flavour of what a holiday with Go Beyond will be like.