Following the success of Witherslack Group's online events, we are excited to bring you details of our next virtual conference, which will be taking place on Wednesday 30th March from 10am onwards.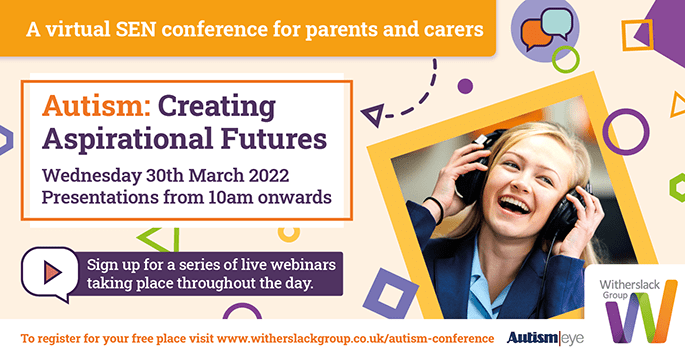 Inspiring talks and practical advice
On the day, you will hear from SEN and neurodiversity experts from across the country, who will present inspiring talks, offering practical advice on supporting children and young people with autism and associated needs.
This very special event will take place during Autism Acceptance Week and is sure to be an enjoyable occasion for everyone wanting to develop their knowledge and understanding and celebrate their children's amazing superpowers.
Speakers include Dr Tony Lloyd and Tracy Bowyer from the ADHD Foundation Neurodiversity Charity, Anne-Marie Harrison from Ideas Afresh Education and a Head Teacher and Lead Practitioner from Witherslack Group.
Free conference presentations
The conference is free to attend and will include the following presentations:
–          Autism: A pathway through assessment and diagnosis
–          Understanding your child to accelerate their progress
–          How neurodiverse people are shaping the future
–          Turning distressed behaviour into positive solutions
–          Autism: the building blocks to happiness & wellbeing
There will be the opportunity to ask the experts questions at the end of each presentation.
Free recording of the conference presentations
Each conference presentation will be recorded, so even if you can't make it on the day you can still register and a copy of the webinar recording will be sent to you in the days following the event.
Library of resources
Here at Witherslack Group we pride ourselves in providing support and advice on supporting neurodiverse children and young people. We closely collaborate with professionals in the field of SEN and also work with specialists within our Group to offer webinars, podcasts and resources that will add to the toolkit of parents, carers and professionals.
You can browse our library of resources by clicking on the following link: https://www.witherslackgroup.co.uk/support-and-events